Case Studies
Eclipse Energy Ltd
Company
Eclipse Energy a Grantham based low carbon energy company had secured the concession for gas and wind assets for the Ormonde offshore project 10km off the Cumbrian coast. Investment was required to exploit their technically and commercially innovative development to produce and sell electricity, enabling partners to comply with renewable energy legislation. The management team have extensive senior management experience in successful offshore energy projects.
Investment
The deal involved investment from existing shareholders, a VC fund and EMBA investors. A total of £650,000 was raised to enable Eclipse to proceed with a joint development programme for the hybrid production of electricity from offshore natural gas and wind resources.
Ian Hatton MD said, "Raising investment capital is not an easy process. We had talked to a number of advisors and spent a lot of time and money. I wish we had talked to EMBA sooner as they proved to be the catalyst that helped bring the whole deal together. They took the time to understand our business and EMBA's investment improved our credibility with other backers and gave them the confidence to proceed. EMBA are very professional and helpful and in addition to making the investment, they introduced an enthusiastic non-executive director."
Exit
Eclipse Energy was acquired for £51.5 million in November 2008 by Vattenfall AB one of the largest electricity generators in Europe.
Ian Hatton Eclipse CEO said "Vattenfall is a company committed to the pragmatic development of low-carbon energy resources as is Eclipse. Its involvement in the continued development of the Eclipse project portfolio is good news for the UK."
Lars G Josefsson CEO of Vattenfall Group said : "As part of our strategy to reduce emissions, Vattenfall has very ambitious plans within renewable energy. The UK is a prime target for future growth. Eclipse is a sound company and has developed important projects in line with our business and ambitions."
Babybond Ltd
Company
Rutland-based Babybond provides private ultrasound scans and related services to pregnant woman from its wholly-owned and franchised centres across the UK. Founded by ultrasound professionals Jan and Mike Steward, the company has quickly established itself as the UK leading national provider, they are the first ISO quality endorsed ultrasound company and they only use fully qualified sonographers, unlike many of the competition.
Investment
Babybond impressed us as they have successfully married professionalism, fantastic customer service and sound business judgement. Jan and Mike have overseen impressive growth in the last few years, and we agree with their view that there is an opportunity for further significant growth over the next few years. Mike and Jan also produce meticulous management information and data on all aspects of the business, which has been used to create good efficiencies.
As Babybond is already profitable, the company could have self-financed its expansion, but venture capital funding will enable the business to achieve its aims much more quickly. EMBA introduced co-investors who together provided over £200,000 of expansion capital.
The money is being used to enable Babybond to implement a bespoke web booking system across the entire group, increase its tele-sales capacity and accelerate the company's expansion across the UK. The company is also benefiting from having new board members including leading obstetrician Kevin Harrington plus non execs experienced in growth strategy, partnership building and exit preparation.
Applied Multilayers Ltd
The Company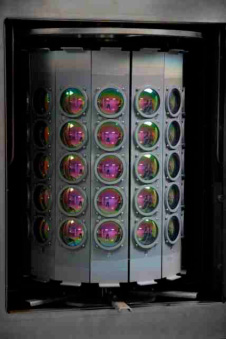 Applied Multilayers was established in 2002 and is based in Coalville Leicestershire. The Company designs and manufactures equipment and processes for multilayer optical coating.
The management team includes Dr Michael Walls (Chairman), formerly with the highly successful VG Instruments Group plc, who is well known for the commercial application of surface and thin film physics and Dr Des Gibson (Managing Director), formerly with Pilkington plc and Satisloh AG, who is regarded as a key player in precision optics. Both are widely respected both as entrepreneurs and as leading figures within the global optical coating market. Tony Abramson is Finance Director, obtained his FCA while with Coopers & Lybrand.
Applied Multilayers Limited ("AML") has developed world leading technology for the deposition of high quality thin film optical coatings. The process known as "Closed Field" Reactive Magnetron Sputtering has the potential to become the dominant optical coating technology worldwide over the next 5 -10 years. The company has already developed a range of system platforms and has secured business in sectors such as OLED flat panel displays, electrochromic coatings, ophthalmic coatings and Infra-red coatings. The company has a number of its systems operating worldwide and has achieved profitability on sales ~ £2M in 2008.
The Investment
Applied Multilayers has a number of features which attracted us as a group of private investors. They have disruptive, world leading, patented technology and have sold machines into a range of industries internationally. The management team are strong both technically and commercially. Customers who are ordering 2nd & 3rd machines confirm that the technology is the best available. The Company serves large markets from mirror and anti reflective coatings on sunwear (eg Easypower) to infra-red coatings for defence applications. Their clean energy thin film solar power applications are particularly exciting, as endorsed by their involvement with Pilkington Group and Arup Partners in an exciting building integrated photovoltaic project. EMBA investors invested £220,000 as part of a £410,000 investment round. The investment was introduced to us by Catapult for whom this is a follow on investment. Some of our private investor group have good understanding of the industry and we believe this business will be attractive to trade buyers in the near future.